Guide to Commercial Garage Doors
Does your business or industrial site have a commercial garage door in need of servicing, maintenance, repairs, or even replacement? Look no further than you experienced and certified garage door experts at Door Ace. As a family-owned and operated business, we enjoy helping fellow businesses with quality work and customer service. We fix and install commercial-grade garage doors for property and business owners throughout the following areas in Canada:

If you're in need of brand new commercial garage door, have a look at our bevy of functional styles and designs–no matter the industry or purpose your work space serves!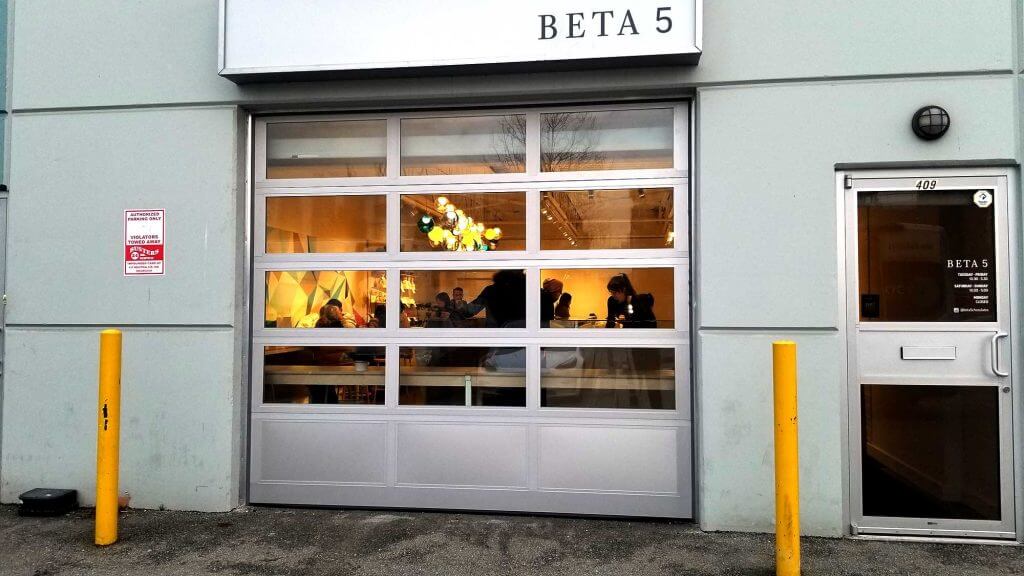 Read on for more information about the types of commercial garage doors we service and offer, frequently asked questions, and the industries that can benefit from commercial grade garage door solutions!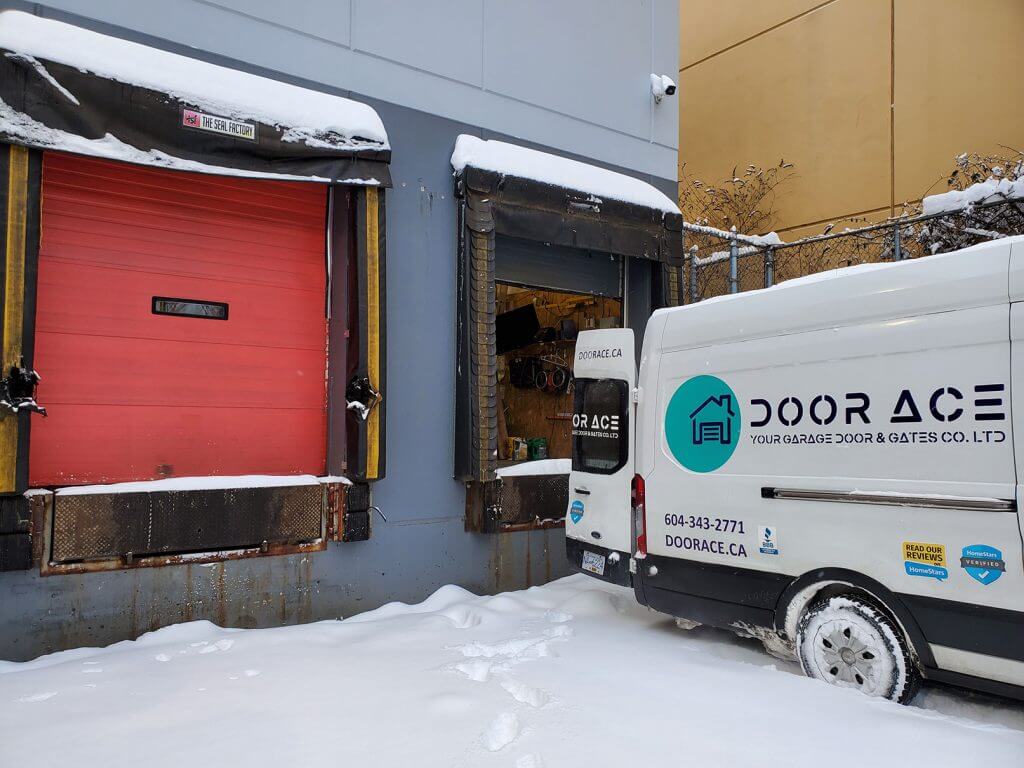 What Type Of Commercial-Grade Garage Door Does Your Establishment Need?
When it's time to replace your commercial garage door or install a brand new one for your business or industrial site, Door Ace provides a plethora of models, materials, and sizes to accommodate the scope of your space. We carry and service the following major types of commercial garage doors, including but not limited to:
What Type Of Commercial-Grade Garage Door Does Your Establishment Need?
When it's time to replace your commercial garage door or install a brand new one for your business or industrial site, Door Ace provides a plethora of models, materials, and sizes to accommodate the scope of your space. We carry and service the following major types of commercial garage doors, including but not limited to:
Rolling Steel: For added security, heavy-duty rolling steel commercial garage doors are perfect for warehouses, fire stations, storage facilities, or other sites that need to stay protected overnight or over the weekend. This type of commercial garage door is a robust solution crafted from corrugated steel, which is resistant to any impact. In addition to overhead options, there are also a wide array of side-folding styles available to create a commercial door that's not just sturdy and strong but secure.
High-Speed: For higher traffic commercial buildings, businesses, or sites, you'll need a highly durable and secure garage door to stay efficient with daily operations, production goals, and even compliance. We offer high-speed commercial garage doors such as G2 5400 roll-up doors, which can open and close 54 inches per second with the use of an opener. Some high-speed options require less maintenance than commercial doors with cables, wheels, and springs–increasing your site's up-time and helping your business stay ahead of schedule.
All-Glass: For commercial buildings that accommodate dealerships, service stations, repair shops, or any other business that relies on displays on a large-scale, there are also all-glass garage door options that provide panoramic windows and commercial-grade protection.
The Main Differences Between Commercial + Residential Garage Doors
Although the construction and components among commercial and residential garage doors is very similar, there are some additional things to keep in mind when servicing or installing a commercial-grade garage door. At Door Ace, all of our garage door specialists are experienced and certified in the many nuances that garage doors require in a commercial, institutional, or industrial setting. Here are just a few of the key differences our technicians look out for to ensure that your commercial-grade garage door is efficient, effective, durable, and safe.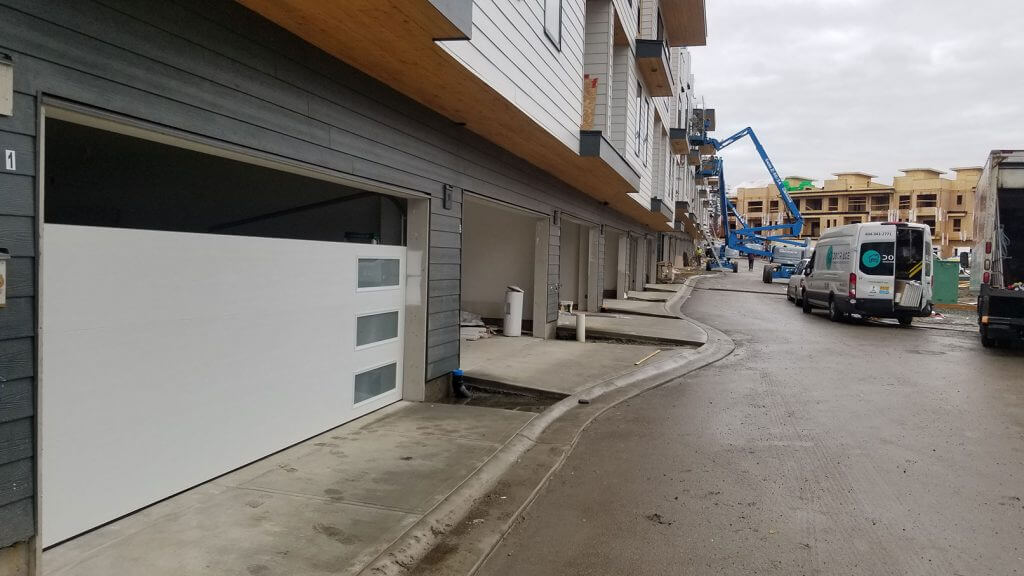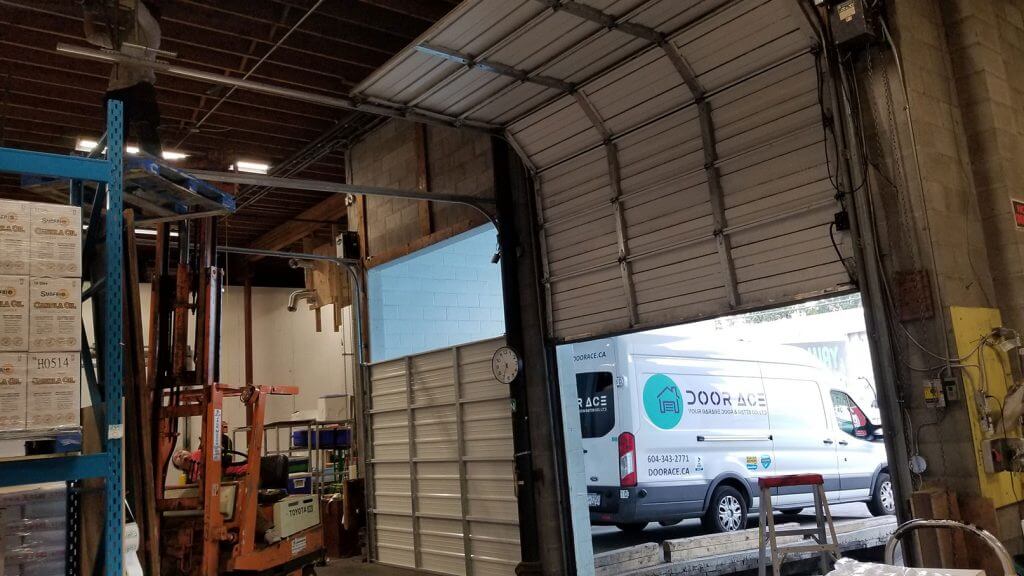 Thickness
Because many businesses and commercial sites aim for strength and energy efficiency when it comes to their loading docks or zones, many commercial garage doors are thicker than their residential counterparts and nearly always insulated. Commercial garage doors can be made up to 3" thick, while residential doors rarely exceed 2".
 Tracks
Similarly, because commercial garage doors are accommodating higher load capacities and higher use, their tracks are usually bigger, up to 3", whereas residential tracks usually only require 2" hardware.
Springs + Counterbalance: Because commercial garage doors may be opened and closed a vast number of times within a work day, their spring systems also need to be more robust. 
Lift Type: In addition to the standard lift available to residential garage doors, commercial options may also offer a high lift or full vertical lift, depending on the amount of clearance available.
Electric Openers: As mentioned earlier, commercial garage doors experience higher frequency and higher volumes of cycles. Because of this commercial garage door openers are typically larger in size and electric openers rely on more voltage to provide more force.
Commercial Garage Door Frequently Asked Questions (FAQ)

Before hiring a garage door specialist to repair or replace your commercial garage door, we understand that commercial property managers and/or owners might have some preliminary questions. Here are some of the most common queries we receive from clients in regard to commercial-grade garage door solutions!
How powerful does my commercial garage door opener need to be?
Typically, average residential double doors and heavier single doors work well with 1/2-horsepower openers. Any commercial garage door at least 16 feet wide and 8 feet tall will require a 3/4-horsepower opener.
How big are commercial-grade garage doors, typically?
Although this highly depends on the type of commercial space or site, commercial garage doors are typically bigger than residential options with an average width of 32 feet x 2 inches and an average height of 24 feet x 1 inch.
How do you successfully paint an aluminum garage door?
If you want to paint the aluminum garage door installed at your commercial space, first start out by completely cleaning the surface, then priming it with an oil-based metal primer. After preparing the door, be sure to use 100 percent acrylic exterior latex paint. Ask us about our pre-painted aluminum doors!
How much does an overhead commercial garage door cost?
The overall price of any new-install depends on the type of material, the size of the door, decorative finishes, as well as all of the hardware, including but not limited to the following components: tracks, fasteners, and spring systems. Also, the cost of labor must be factored in. At Door Ace, we provide free consultations and estimates, so you can know the overall cost of your new commercial garage door up front–because your satisfaction is our guarantee.
The Best Type Of Garage Door For Your Commercial Establishment
With years of experience installing and repairing commercial garage doors, Door Ace is equipped to give you the best solution at the best price for any space from retail stores to industrial sites. No matter the function of your commercial property, we have the garage door that will fit your needs and exceed your industry standards. Here are some recommendations for the type of commercial garage door that's best suited for your establishment!
Warehouse, Distribution, or Manufacturing Site
As a warehouse, distribution, or manufacturing business, high-performance commercial garage doors are critical to your day-to-day operations. You may be opening and closing your commercial garage doors multiple times for loading and unloading shipments important to your business. That's our garage door specialists at Door Ace recommend high-speed doors for these types of commercial spaces.  Not only do they keep up with the fast-pace of your business, but they are also energy-efficient, maintaining indoor temperatures with doors that close quickly. Keep your loading docks as efficient as ever with a high-speed commercial garage door.
High-Traffic Building or Warehouse
If your commercial space calls for sturdy doors that can accommodate high foot traffic and offer added security, steel sectional doors are the right choice for your business. The ideal option for companies that utilize and/or store heavy machinery or large vehicles, steel sectional doors are among the toughest commercial garage doors on the market. They are also energy efficient, providing excellent insulation and protecting all of your gear from the elements. The extra-durability of steel sectional steel requires little maintenance, so your business can operate with ease all year round.
Commercial-Grade Garage Doors For Where You Need Them The Most
Do you have any additional questions about out commercial-grade garage door solutions at Door Ace? Don't hesitate to contact us with any general inquiries or specific questions regarding your commercial garage door. You can call us directly at 604.343.2771. Get your free consultation and estimate today!