Burnaby Garage Door Repairs | Burnaby Garage Doors
Your Garage Door Specialists in Burnaby, BC.
Since the beginning, Door Ace has worked as a family-owned and operated company offering a full spectrum of services, repairs, and installs for residential and commercial overhead garage doors and gates. Our full-service approach encompasses everything from sales, installation, repairs, maintenance, and replacements!
Like any local, family-owned contractor, the Door Ace team takes special pride in our work, and we strive for 100% satisfaction from 100% of our customers. What sets us apart is our commitment to high-quality services and products.
If you're experiencing any issues or irregularities with your garage door, it's time to contact your local professionals at Door Ace. Even if it's just a simple fix, our team of technicians is more than happy to show you a DIY technique, giving you the most cost-effective garage door solution each and every time.
Have a question about your Vancouver residential or commercial garage door? Click here to call us at 604-343-2771 or 778-588-5754.

Victor Nomura

The best repair ever!!!! R is the greatest!!! They went beyond and above. Technician repaired garage springs and fixed the bent door even better than it was before. Hopefully I don't wish another repair but if something goes wrong, I'll definitely call them again.
Charles Acompanado

R was very professional and took the time to explain why we needed our garage spring and cable replaced. Thank you for the excellent service. We will definitely recommend him to our family and friends.
Sue Petersen

Woke up this morning and heard a very loud noise in the garage. Door would not open. Spring was broken. Not a good start to a Saturday with a ton of errands to run. R to the rescue. From the initial call to his arrival was 45 minutes. Had to go and pick up necessary parts and returned quickly. Finished by 11:30. Saturday was salvaged thanks to R. He was efficient, professional, personable and best of all he liked my dog. Would absolutely recommend.
Paul Martin

I called to have my spring changed as I had previously replaced my wood door with a metal door.
John the technician,(great guy) called me promptly after my request. Asked detailed questions so he could trouble shoot on route. He called 15minutes before arrival too.
He arrived and sorted my issue quickly and professionally.
From calling up to request a technician, to completion of the work was within 4hrs.
To say I'm impressed is an understatement.
John is a great ambassador for your company.
I will recommend him and your company at every opportunity I get.
Well done!
10/10!!!!
Helen Eng

R was very helpful and fixed my garage door very quickly and efficiently. He knew his stuff and was willing to inspect the other parts of the door where workmanship had not been done correctly in the original installation and he fixed it to prevent future problems. Thank you very much. I will use the service again in future if I need it.
Evhvariac

Very professional company and fast service. Installed exactly what we needed. Great communication. Installation was precise with a perfect seal on the door. If you're getting a new garage door I highly recommend getting a new opener along with it. Very happy with the Liftmaster 8355 belt drive. So smooth and quiet. I highly recommend this company. Thx again!
Denis Astahov

Technical arrived 3 hours after my call and fixed my garage door issue in just 20 min. Very professional service and Good price. Thanks.
Angie Kouvousis

We purchased and installed our garage door from Door Ace. They were very professional and knowledgeable, we are very happy with the job. John the installer was very kind and easy to work with. We would gladly recommend this company and we give them ?????????? stars!
Alessia Marra

Extremely impressed. Called on a Friday and had doors installed by end of day Monday. Doors look great. Installer was professional and clean. He even worked around the mess in my garage without any complaints. Thank you DoorAce. Great job
Erin De Cicco

This was my second time using this company and again was NOT disappointed. Excellent customer service like this is hard to find these days. Call was answered promptly, service was performed next day, called to advise exact arrival time, arrived on time, resolved issue, (spring had tightened) did some general maintenance and then advised there would be no charge as it fell under warranty. But the extra maintenance and clean up was extra work and they didn't charge for it. Shows real integrity. Someone that cares about the job they do. Thank you!!
Garage Door Galore
If your Burnaby home, building, or business needs a new garage door or simple maintenance or repair, DoorAce is more than happy to get your system back on track.
Have a look at some of the stunning garage doors we've helped fix and/or replace!
To see more of our garage door portfolio and gallery,  click here
When Your Garage Door Falls In Disrepair, Who Are You Going To Call? Door Ace!
No matter the repair or maintenance your garage door requires, Door Ace has got you covered. We take care of the following components when it comes to your garage door:
Noisy garage doors
Garage doors with issues fully opening or closing
Re-lubrication
Worn out binding rollers
Broken or weak springs
Door balance, drum, and cable examinations
We inspect weather stripping, overall door condition, motor sensitivity, force and limits, the hinge screw torque, etc.
Safety sensor alignment
Guide rail, spring, and hinge lubrication
Problematic motors repair (limited brands only)
Need An Entirely New Garage Door? DoorAce Has Got You Covered!
When repairs and maintenance aren't enough to get your garage door back in working order, Door Ace offers on-site and phone consultations for garage door replacements. Not only do we provide free residential door estimates for Burnaby homes, we also allow your option of custom or standard design when it comes to you new install.
Limitless Designs
Door Ace offers an expansive array of garage doors available in varying styles that will fit any home or building architecture–from traditional Old World designs to authentic carriage house doors and sleek, modern doors.
Countless Colors
One of our trusted partners, Amarr, offers a limited number of pre-painted steel doors. However, Door Ace customers are more than welcome to customize the color of their choice steel garage doors–we'll paint them with off-the-shelf exterior latex paint for you! While wood doors come in their natural finish, they are more than ready for staining or painting, and wood-composite doors are also prepared to be painted or stained.
Endless Accessories
Carriage house doors feature options for decorative handles as well as ornate strap hinges, while the clean lines of a modern or conventional garage door may not require any decoration due to its functional aesthetic and design.
Endless Horizons
Door Ace also provides an assortment of decorative window options ranging from modern, contemporary styles to ornamental faux shaped iron and Frank Lloyd Wright-inspired colors and designs–all to create a garage door that both fits your individual style while complementing the overall aesthetic of your home or building.
What We Check For | Garage Door Service + Maintenance
When you call Door Ace, we pride ourselves in offering the best in high-quality garage door service and maintenance. We check all of the necessary components to ensure your garage door runs smoothly at peak performance. Here are just some of the areas we address when servicing your garage door:
Binding Rollers
Door Balance
Drums
Door Condition
Motor Sensitivity
Force + Limits
Hinge Screw Torque
Safety Sensor Alignment
Greased + Oiled Guide Rails, Springs, + Hinges
Problematic Motors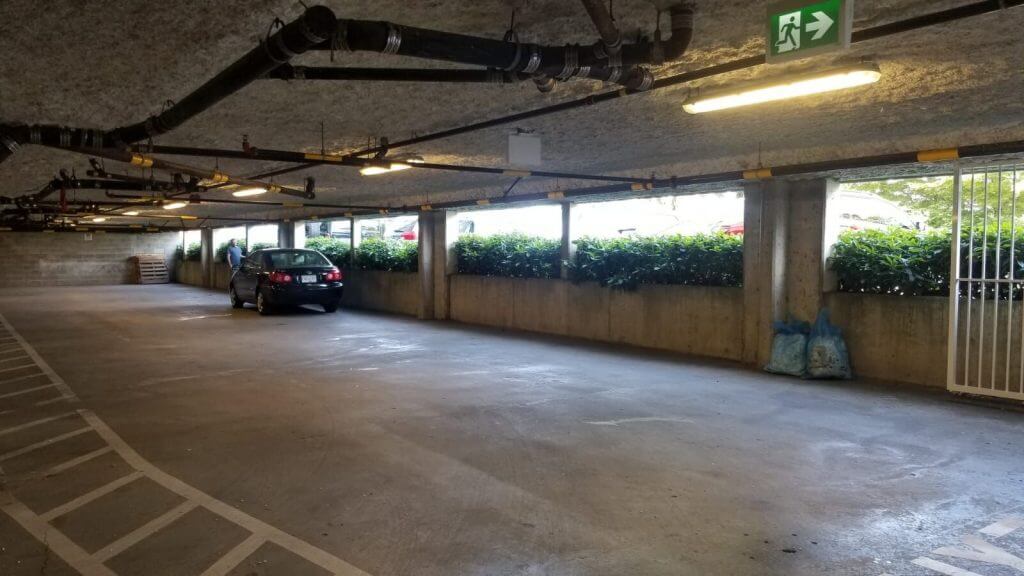 Garage Door Openers + Accessories From DoorAce
Are you having issues with your garage door opener or any other enhanced features? Door Ace is more than happy to fix or replace any accessory connected to your garage door!
We provide different types of Liftmaster and Linear openers such as:
Chain drive
Belt drive
AC motor
DC motor with battery back-up
Jackshaft or direct drive
Commercial-grade openers.
All of our premium garage door openers come with WI-FI capabilities and allow you to control  your garage door from wherever you are–at home, out of town, or even abroad!
Also, Door Ace can repair your existing garage door opener whether it's stripped gear, secret board, or safety sensor.
Residential Garage Doors For Your Burnaby Home
At Door Ace, our certified and insured technicians are experts at repairing and installing new garage doors for residential homes throughout Burnaby. Here are a few key categories explained when it comes to choosing your home's new residential garage door.
Carriage House Garage Doors
Also known as barn-style garage doors, carriage house garage doors are a popular style among homeowners. These doors are typically crafted from wood and given a natural finish.
Contemporary + Modern Garage Doors
Typically made from steel, glass, or aluminum, contemporary and modern garage doors can also incorporate wooden elements, vertical window schemes, and flush panels for a home with a less traditional, more cutting-edge design.
Traditional Garage Doors
Still a popular option for many homeowners, traditional garage doors swing out manually from the center, adding to the rustic feel or aesthetic of certain houses.
Commercial Garage Doors For Your Burnaby Site
Are you a Burnaby business or property manager in need of a new garage door for your commercial property? Look no further than Door Ace for all of your commercial garage door solutions. Here are a couple of the most popular options when it comes to replacing your commercial garage door.
Sectional Aluminum Garage Doors
Corrosion-resistant, aluminum is a popular option for sites that receive heavy-duty exposure to moisture and the elements. Opt for a garage door that's as tough and hard-working as you!
Sectional Steel Garage Doors
Equally durable and heavy-duty, sectional steel garage doors are great for industrial sites, factories, and more!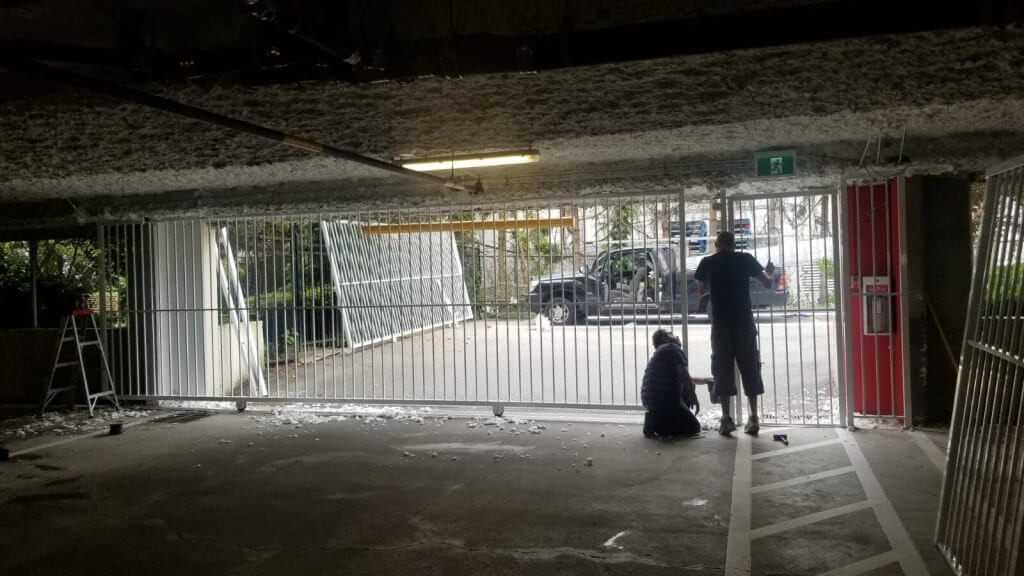 Have a question about your Vancouver residential or commercial garage door? Click here to call us at 604-343-2771 or 778-588-5754.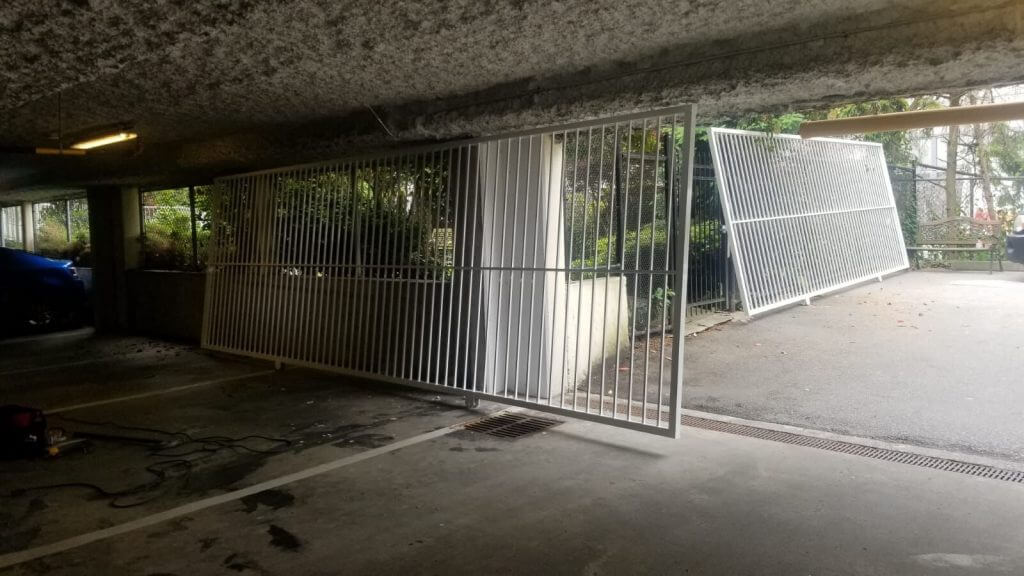 Your Garage Door Questions Answered (FAQ)
At Door Ace, we understand that many homeowners and property managers have many valid questions when they're garage door stops working or the time has come to install a new one. Here are some of the most common questions our staff and technicians receive from customers seeking out our garage door services in Burnaby and beyond.
Can I use the old tracks on my garage door?
Although some garage doors can be retro-fitted to existing tracks, the vast majority require new ones. More often than not, when you choose to reuse old garage door tracks, your garage door will likely lack proper spacing.
Do newly installed garage doors come with tracks?
Most garage door tracks are proprietary, meaning they are specifically designed for each particular door model. The majority of garage doors have offsets, which is an industry term that refers to the spacing on the track when it is pre-set at the factory and riveted together. Choosing a track that matches the offset of your garage door is vital for proper functioning! At Door Ace, all new garage doors are installed with the proper tracks to ensure peak performance.
How thick should my garage door be?
Typically, your garage door's insulation is crafted from Styrofoam or polyurethane. Garage doors with Styrofoam insulation come in thicknesses of 1?", 1¾", or 2" (35 to 51 mm). Polyurethane-insulated garage doors have a thickness between 1?" and 2" (35 and 51 mm). Most of these garage doors are 1?" or 1¾" (41 or 45 mm) thick. Our Door Ace technicians will provide the garage door with the ideal thickness for your home or building based on an inspection and assessment of your structure.
How long does a garage door replacement take?
Surprisingly, new builds and replacements are fairly quick installs. Depending on the size of the door, a replacement can be completed in less than 3 hours. If you currently have a 16-foot garage door and are replacing it with another 16-foot door of the same type and thickness, this install will take up to 3-4 hours since the key metrics and design haven't been vastly altered. More customized doors will typically take a little longer to install.
How much space will I need above my garage door?
For a standard garage door with an electric opener, your space will require a minimum of 15 inches of overhead clearance–this includes 12 inches for the door and torsion spring system and three inches for the garage door opener equipment.
Do newly installed garage doors come with springs?
Garage doors purchased through retail chains are generally supplied with standard extension springs on single car garage doors, which are 10 feet wide and under, and EZ Set torsion springs on two-car doors that are over 10′ wide. Our professional garage door technicians will install the best springs that are ideal for your home or building.
Is garage door repair and replacement covered by my homeowner's insurance?
More often than not, home insurance policies will cover garage door repairs and replacements when it comes to cases of theft, damage, fire, or vandalism. However, if your garage door faces damage to certain natural disasters, a car accident, or even intentional tampering, your home insurance policy will not provide coverage for the necessary services. Contact your provider to learn more!
Burnaby Garage Door Specialists At Your Service
Do you have any additional questions about our Burnaby garage door services? Don't hesitate to contact Door Ace for all of your garage door needs at 604-343-2771 or 778-588-5754.