Types of Residential Garage Doors
At Door Ace, we offer a wide array of residential garage door models to fit the architectural design of your home. We carry all major garage door types, including the following:
Sectional
One of the most popular options among homeowners,  sectional garage doors are comprised of several horizontal panels hinged together and fitted with rollers with the entire assembly operating on two parallel tracks. These garage doors utilize a heavy-duty torsion spring that's wrapped around a torsion bar to counterbalance the weight of the door, and homeowners can either lift the door manually or use a motorized garage door opener that's chain-, belt-, screw- or direct-driven.
Many of our sectional doors are available with or without windows. Sectional garage doors can include up to 16 panes in several shapes, including square and arched. Door ace also provides a wide selection of styles and designs for sectional doors, ranging from traditional to modern/contemporary. There are even sectional doors available in the equally popular carriage-house style, which look like manual swing-style doors but operate like motorized sectional doors.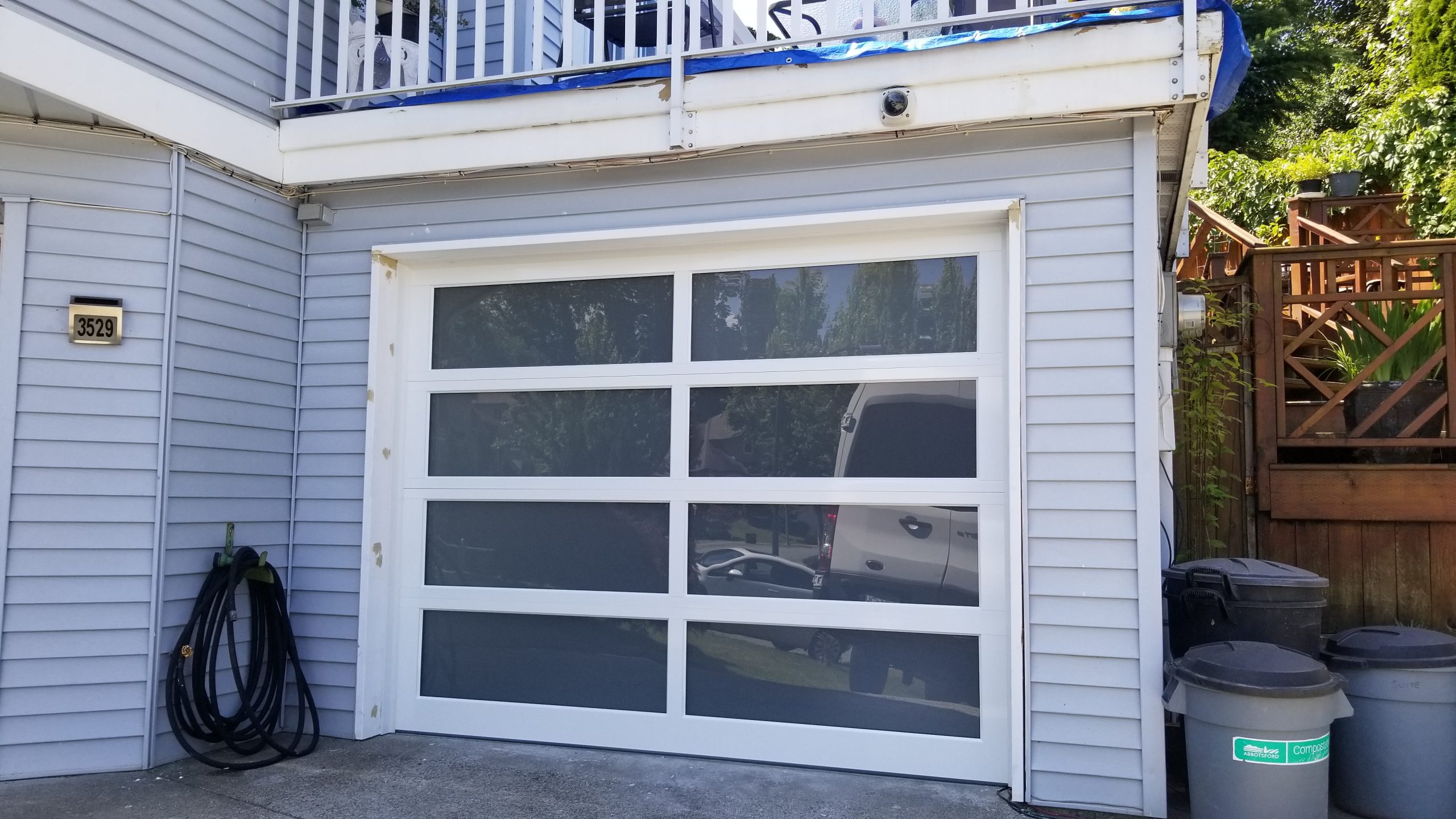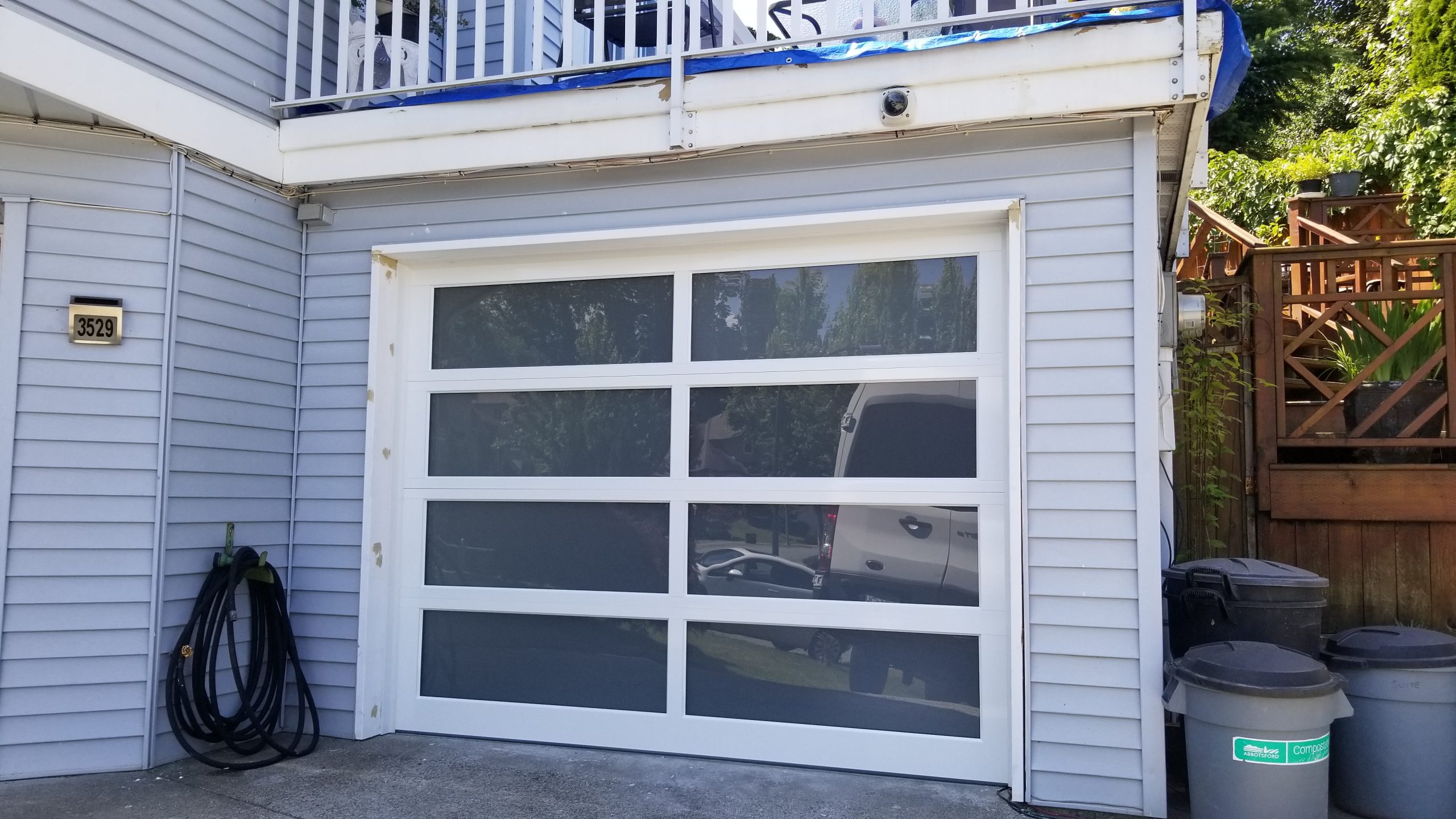 Carriage / Swing-Style
A more traditional type of residential garage door, tried-and-true carriage or swing-style garage doors operate like a pair of very big French doors. More often than not, these doors are made of wood and hang from jambs on hinges. Swing-style doors create an architectural focal point, adding strong vertical lines to the facade of your home. It's also important to note that, swinging garage doors tend to be more energy-efficient due to the sealant at the header and side jambs and the fact that they only have one joint.
However, carriage and swing-style garage doors do require more clearance. Also, if homeowners park too close to their swinging doors, they won't have room to fully open. Typically, these types of garage doors are best suited for spaces dedicated to storage rather than parking because they are more time-consuming to manually open and lock. They can also be quite expensive to automate.
Your Choice Of Residential Garage Door Material
The next step in the process is deciding what type of material you want your home's new garage door to be constructed from. Lucky for you, Door Ace offers a bevy options for you to choose the garage door that serves the best in design, function, and protection.
Steel
A more heavy-duty garage door solution, high-quality steel doors are constructed with two layers of galvanized steel in which the surface is either primed or painted with a tough topcoat finish or clad with a composite material. Customizations abound, steel doors can be painted to match your home and are available with or without insulation.
One major drawback to steel garage doors is that they are prone to dents and subject to corrosion, especially in coastal areas. If you live in a humid area, Door Ace highly recommends that homeowners opt for galvanized steel components for increased service life. For any steel garage door components, the material's thickness is measured in gauges. Keep in mind that the lower the gauge value, the thicker the steel. One of our garage door specialists will help you decide on the appropriate thickness for your steel door given the structure of your home and garage opening.
Wood Composite
A more modern material, composite garage doors are typically made with a wood frame covered in sheets of fiberboard. Top-shelf composite garage door models offer higher-density fiberboard skins and also incorporate realistic details that mimic actual wood, including overlays and grooves. Also, oftentimes cores in composite doors are filled with polystyrene insulation.
Wood
One of the most popular residential options are wooden garage doors, which are built with layers, or plies, to prevent warping. At Door Ace, we offer a bevy of wood types, including cedar, redwood, fir, and meranti (luan). Homeowners should keep in mind that wooden garage doors can be factory-stained, painted, or finished on-site according to custom specifications.
Aluminum
The perfect metal garage door for houses in areas with higher humidity, aluminum panels eliminate the problem and possibility of corrosion, but are actually far easier to dent than steel doors even. Aluminum garage doors in residential homes are available in contemporary brushed finishes, as well as a wide array of colors. Another popular alternative is translucent glass panels, which may be used instead of aluminum, and they let in daylight without sacrificing your privacy, security, or protection.
Fiberglass
More and more homeowners are opting for fiberglass garage doors because they are less subject to denting or cracking. However, even though these doors don't rust, they can still break upon impact. Garage doors made from this material are typically comprised of two layers of fiberglass, which are bonded to a steel frame and then filled with polyurethane insulation–optional end caps help improve rigidity and overall strength.
Vinyl
Perfect for families, vinyl garage doors are promoted as 'kid-proof,' because they are very difficult to dent or break. Typically, mounted on steel frames, vinyl garage doors are also filled with polyurethane insulation. They also look quite similar to fiberglass variants but are available in fewer colors. Growing in popularity, vinyl garage doors are very durable requiring very little maintenance besides the occasional hose-down.
Your Home's Garage Door Hardware
When your home's garage door requires servicing, maintenance, and/or repairs, Door Ace has got you covered. Aside from full-service garage door replacements, our experienced technicians will order and install the parts you need to get your garage door back on track, running at peak performance! Here are some of the common components we inspect and repair for residential garage doors.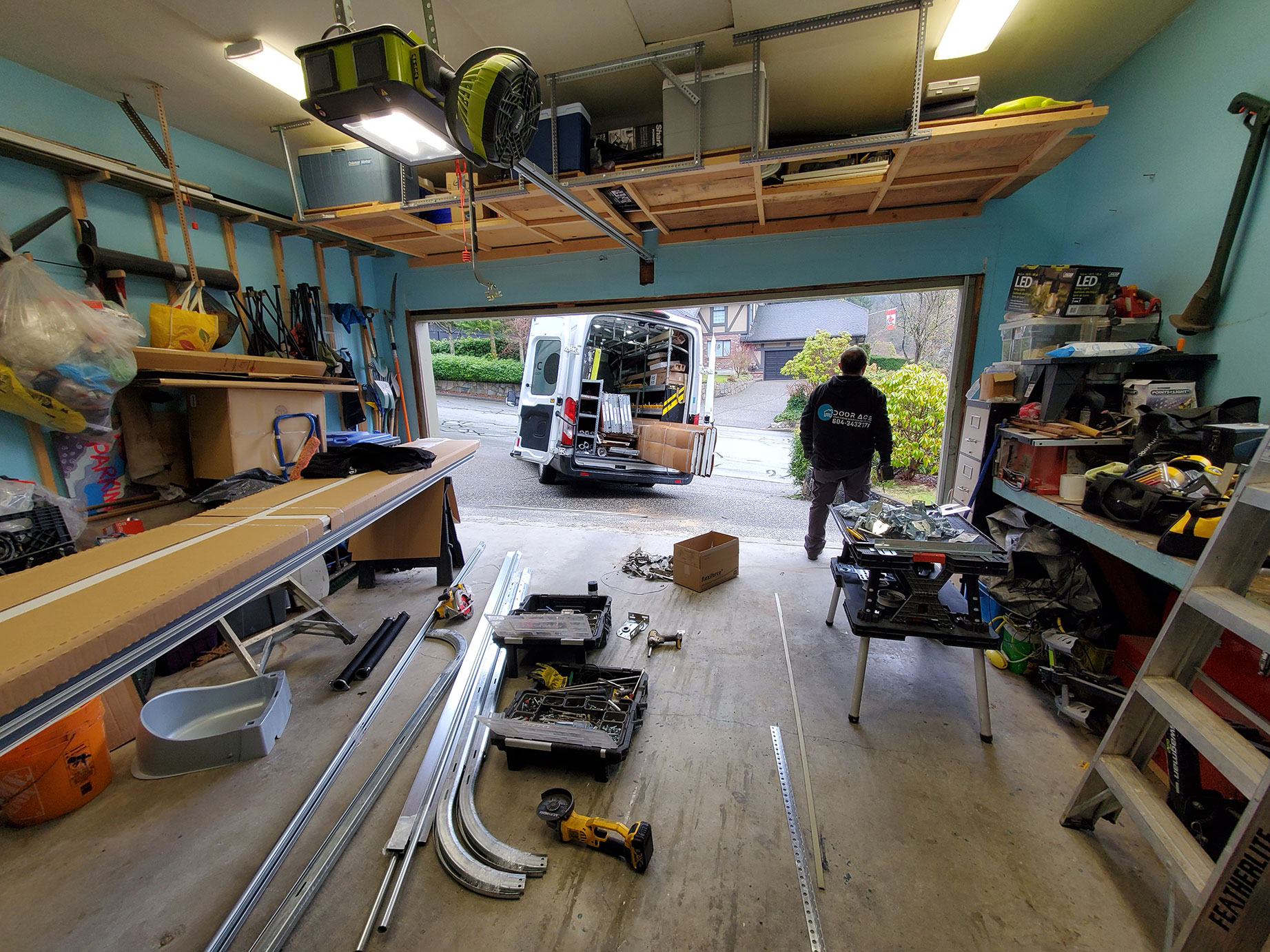 Hinges
Integral to the motion of opening and closing your garage door, these are the joints that allow for sections to fold and collapse. We recommend double hinges for larger garage doors for added reinforcement while open.
Rollers
Rollers are just the wheels that guide your garage door up and down. There are three types of rollers that homeowners can choose from for their residential doors, including: steel, nylon, and reinforced nylon. Both nylon options provide more quiet operation, while steel rollers remain the most common and cost-effective. When you opt for steel rollers, the bearings are the most important factor to consider for durability and performance. The more bearings you incorporate, the better. Rollers with less bearings tend to slide rather than roll, which only increases wear and tear for both your garage door and garage door opener.
Tracks
Tracks are integral to guiding the rollers when opening or closing your garage door. When installing a new residential garage door, it's crucial to consider your tracks' thickness. Tracks made with a thicker, lower gauge steel are more resistant to twisting and bending.
Struts
Because of their increased weight, double garage doors need reinforcement struts for added support when left open for extended periods of time.
Spring System
Also known as the counterweight system, spring systems help homeowners open their garage doors manually without throwing out their backs. Springs are responsible for reducing the weight of your door to roughly 10 lbs. When it comes to choosing springs, there are two main types: torsion and extension. Torsion spring systems are installed above your garage door, while extension spring systems are mounted over the horizontal tracks. An extension system saves a little space for tighter clearances, but both systems are comparable quality with 5-7 year service lives.
Lift Cables
 When servicing or installing a residential garage door, it's important to consider that your lift cable has the load capacity to hold the weight of your door.
Weatherstripping
On residential garage doors, weather stripping is applied in 3 places, including the sides of the door on the exterior, the bottom of the door, and between the door sections. More often than not, weatherstripping is manufactured using PVC or thermoplastic elastomer. Be sure to ask your garage door specialist to check the flexibility of the weatherstripping on your garage door. If you live in an area with a colder climate, you might want to invest in a premium weatherstripping to avoid future repairs due to colder temperatures, or even frost.
The Greatest Garage Door You'll Ever Have
Do you have any additional questions about servicing, repairing, or installing a residential garage door for your home? Please don't hesitate to contact your friendly garage door specialists at DoorAce with any inquiries or requests, including a free consultation, by calling 604-343-2771 or 778-588-5754 today!
Service For Your Garage Door
We repair all makes, models & brands
Fast, friendly garage
door services
We only repair
what is actually broken