Surrey Garage Door Repairs | Surrey Garage Doors
GARAGE DOORS SURREY
GARAGE DOOR + GATE SPECIALISTS IN SURREY
When you need to fix or install a garage door for your Surrey home, business, or warehouse, Door Ace is a family-owned and operated business you can trust. From completing maintenance and repair services to syncing openers and other accessories, our garage door technicians are experts when it comes to all of the factors and components that keep your garage door moving smoothly. We even handle new construction projects! Have you encountered a broken garage door? Or perhaps you would like to install a new and improved garage door? The specialists at Door Ace service the following Surrey areas with premier garage door services:
Fleetwood
Cloverdale
South Surrey
Have a question about your Vancouver residential or commercial garage door? Click here to call us at 604-343-2771 or 778-588-5754.

Victor Nomura

The best repair ever!!!! R is the greatest!!! They went beyond and above. Technician repaired garage springs and fixed the bent door even better than it was before. Hopefully I don't wish another repair but if something goes wrong, I'll definitely call them again.
Charles Acompanado

R was very professional and took the time to explain why we needed our garage spring and cable replaced. Thank you for the excellent service. We will definitely recommend him to our family and friends.
Sue Petersen

Woke up this morning and heard a very loud noise in the garage. Door would not open. Spring was broken. Not a good start to a Saturday with a ton of errands to run. R to the rescue. From the initial call to his arrival was 45 minutes. Had to go and pick up necessary parts and returned quickly. Finished by 11:30. Saturday was salvaged thanks to R. He was efficient, professional, personable and best of all he liked my dog. Would absolutely recommend.
Paul Martin

I called to have my spring changed as I had previously replaced my wood door with a metal door.
John the technician,(great guy) called me promptly after my request. Asked detailed questions so he could trouble shoot on route. He called 15minutes before arrival too.
He arrived and sorted my issue quickly and professionally.
From calling up to request a technician, to completion of the work was within 4hrs.
To say I'm impressed is an understatement.
John is a great ambassador for your company.
I will recommend him and your company at every opportunity I get.
Well done!
10/10!!!!
Helen Eng

R was very helpful and fixed my garage door very quickly and efficiently. He knew his stuff and was willing to inspect the other parts of the door where workmanship had not been done correctly in the original installation and he fixed it to prevent future problems. Thank you very much. I will use the service again in future if I need it.
Evhvariac

Very professional company and fast service. Installed exactly what we needed. Great communication. Installation was precise with a perfect seal on the door. If you're getting a new garage door I highly recommend getting a new opener along with it. Very happy with the Liftmaster 8355 belt drive. So smooth and quiet. I highly recommend this company. Thx again!
Denis Astahov

Technical arrived 3 hours after my call and fixed my garage door issue in just 20 min. Very professional service and Good price. Thanks.
Angie Kouvousis

We purchased and installed our garage door from Door Ace. They were very professional and knowledgeable, we are very happy with the job. John the installer was very kind and easy to work with. We would gladly recommend this company and we give them ?????????? stars!
Alessia Marra

Extremely impressed. Called on a Friday and had doors installed by end of day Monday. Doors look great. Installer was professional and clean. He even worked around the mess in my garage without any complaints. Thank you DoorAce. Great job
Erin De Cicco

This was my second time using this company and again was NOT disappointed. Excellent customer service like this is hard to find these days. Call was answered promptly, service was performed next day, called to advise exact arrival time, arrived on time, resolved issue, (spring had tightened) did some general maintenance and then advised there would be no charge as it fell under warranty. But the extra maintenance and clean up was extra work and they didn't charge for it. Shows real integrity. Someone that cares about the job they do. Thank you!!
Garage Doors For Any Residential or Commercial Space | Surrey, B.C.
At Door Ace, we have a garage door for any architectural design or function at the residential and commercial level. Whether you need a powerful sectional steel or aluminum door for your warehouse or industrial site or a contemporary / modern solution to match your home, we've got you covered. We only partner with suppliers who are the best in the garage door business, guaranteeing high-quality and high-performance for all of our customers.
Shop By Style:
Sectional
Carriage / Swing
Commercial
Shop By Material:
Steel
Wood
Wood Composite
Aluminum » Fiberglass
Vinyl
GARAGE DOOR REPAIR SERVICE IN SURREY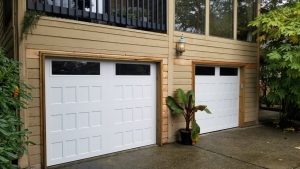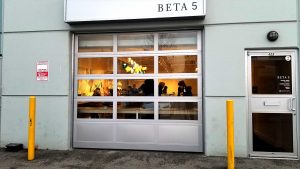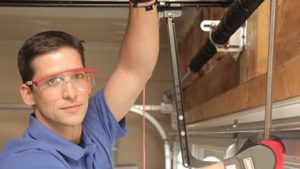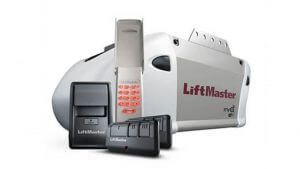 Garage Door Repairs, Installation & Services in Surrey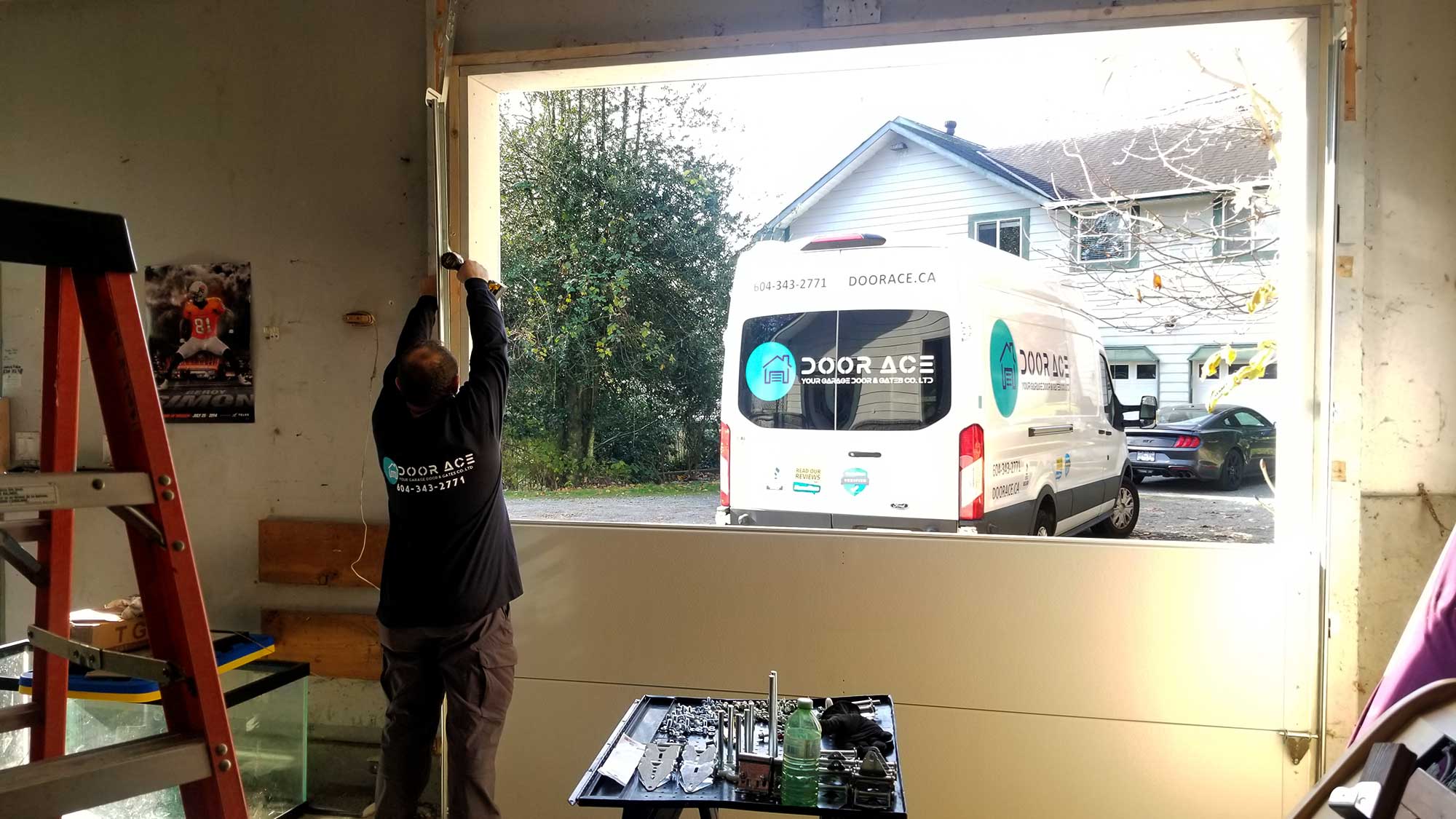 Maintenance, Repair, + Replacements For Your Garage Door
Sometimes your garage door just needs servicing or a brand new part to look and operate at its best. That's why we offer ongoing maintenance, savvy repair, and quick replacements when your garage door needs it. Call Door Ace when you experience an issue with any of the following garage door components:
Hinges
Rollers
Tracks
Struts
Spring System
Lift Cables
Weatherstripping
Learn more about garage door installations and repairs by consulting our frequently asked questions (FAQ)
Garage Door Openers + Accessories From DoorAce
These days, garage door openers are a given and many garage door solutions come with enhanced features. Not only do we install any of the accessories your garage door needs, we will fix and replace them to make your garage door as convenient as ever–whether it's stripped gear, secret board, or safety sensor.
Door Ace offers a wide array of Liftmaster and Linear openers such as:
Chain drive
Belt drive
AC motor
DC motor with battery back-up
Jackshaft or direct drive
Commercial-grade openers.
All of our premium garage door openers come with WI-FI capabilities that let you to control your garage door from wherever you are–at home, out of town, or even abroad!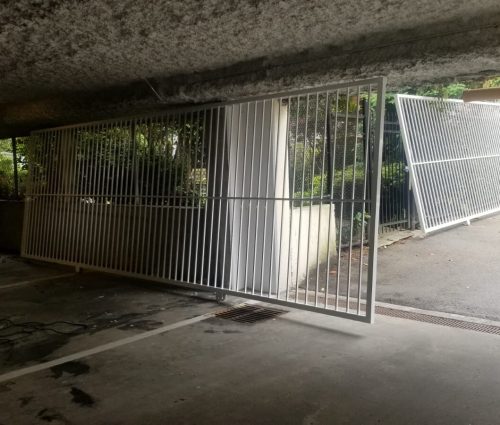 Have a question about your Vancouver residential or commercial garage door? Click here to call us at 604-343-2771 or 778-588-5754.