 NOTE: Door shown represents an 8'x7' Amarr garage door. Actual design may vary based on door width and height. Actual color may vary due to screen presentation. Amarr reserves the right to modify designs without notice.
Overview
Built with heavy gauge, durable steel in classic garage door designs, the Amarr Heritage collection provides low-maintenance, traditional looks for years to come.
Features & Options

Mosaic Window

Quiet Door

WindPro
Construction
Available in Single-, Double-, Triple-layer construction.
Optional 2" polystyrene insulation. Insulated door R-values range from 6.64 to 9.05.
Heavy-gauge, nominal steel is coated in a 5-layer paint system for long-lasting durability.
Available with WindPro wind load reinforcement specifically built to withstand specific high-wind pressures to meet local building codes.
Design
Heavy-duty, 24ga steel with permanent, stamped traditional (2) and modern (2) designs with Lifetime warranty; Long-lasting, factory finished paint colors (8) including Amarr Color Zone with over 800 Sherwin-Williams colors to choose from; Windows are available in DecraGlass designs (9) or double-strength, obscure, Frost, Dark Tint or insulated glass options for desired visible light transmission (VLT) and design; DecraTrim window inserts (1) for complementary design to your home;
Warranty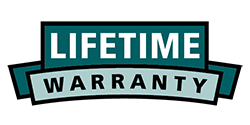 Environmental Assurance
Amarr garage doors are CFC, HFC & HCFC free, have zero Ozone Depletion Potential (ODP), zero Global Warming Potential (GWP) and comply with environmental laws and regulations.
DecraTrim Window Inserts
DecraGlass™ Windows
Glass Color
Door Designs
Mosaic Window Door Designs