Vancouver Garage Door Services - Repair + Installation
Garage Door + Gate Specialists At Your Doorstep
When you need to fix or install a garage door for your Vancouver home, business, or warehouse, Door Ace is a family-owned and operated business you can trust. From completing maintenance and repair services to syncing openers and other accessories, our garage door technicians are experts when it comes to all of the factors and components that keep your garage door moving smoothly. We even handle new construction projects! Have you encountered a broken garage door? Or perhaps you would like to install a new and improved garage door? The specialists at Door Ace service the following Canadian areas with premier garage door services:
Vancouver
North Vancouver
West Vancouver
Burnaby
Port Moody
Coquitlam
Port Coquitlam
Pitt Meadows
Maple Ridge
Langley
Surrey
White Rock
Delta
New Westminster
Richmond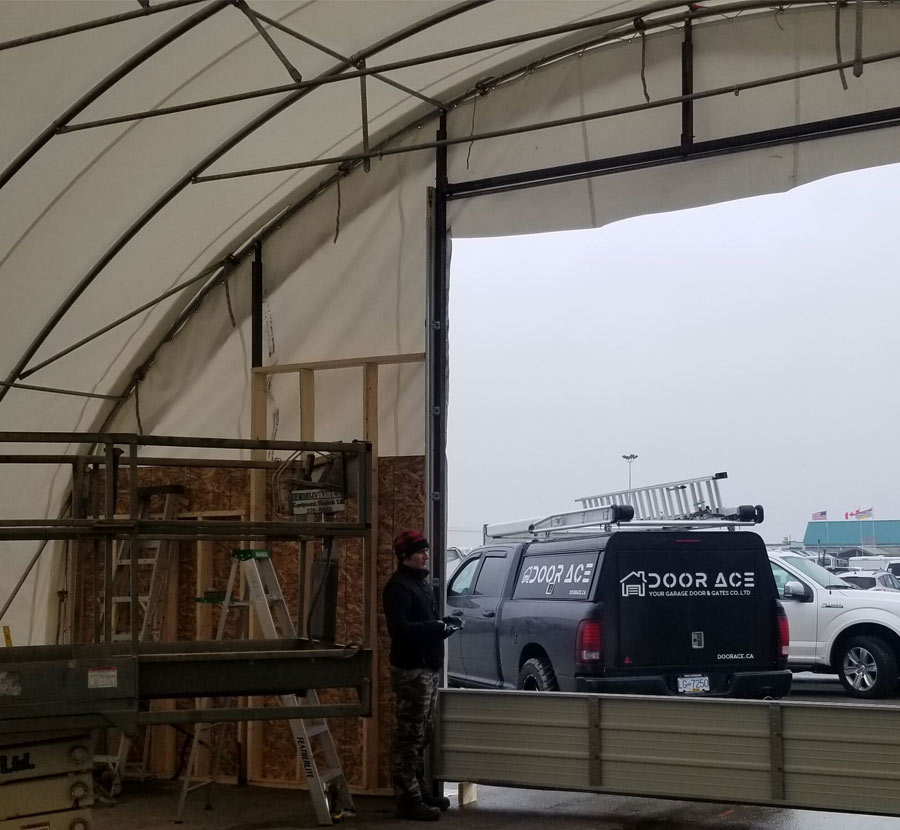 Have a question about your Vancouver residential or commercial garage door? Contact us for any inquiries or to schedule a consultation at 604.343.2771.
Garage Doors For Any Residential + Commercial Space | Vancouver, British Columbia
At Door Ace, we have a garage door for any architectural design or function at the residential and commercial level. Whether you need a powerful sectional steel or aluminum door for your warehouse or industrial site or a contemporary / modern solution to match your home, we've got you covered. We only partner with suppliers who are the best in the garage door business, guaranteeing high-quality and high-performance for all of our customers.
Shop By Style:
Sectional
Carriage / Swing
Commercial
Shop By Material:
Steel
Wood
Wood Composite
Aluminum » Fiberglass
Vinyl
Garage Door Repair Service In Vancouver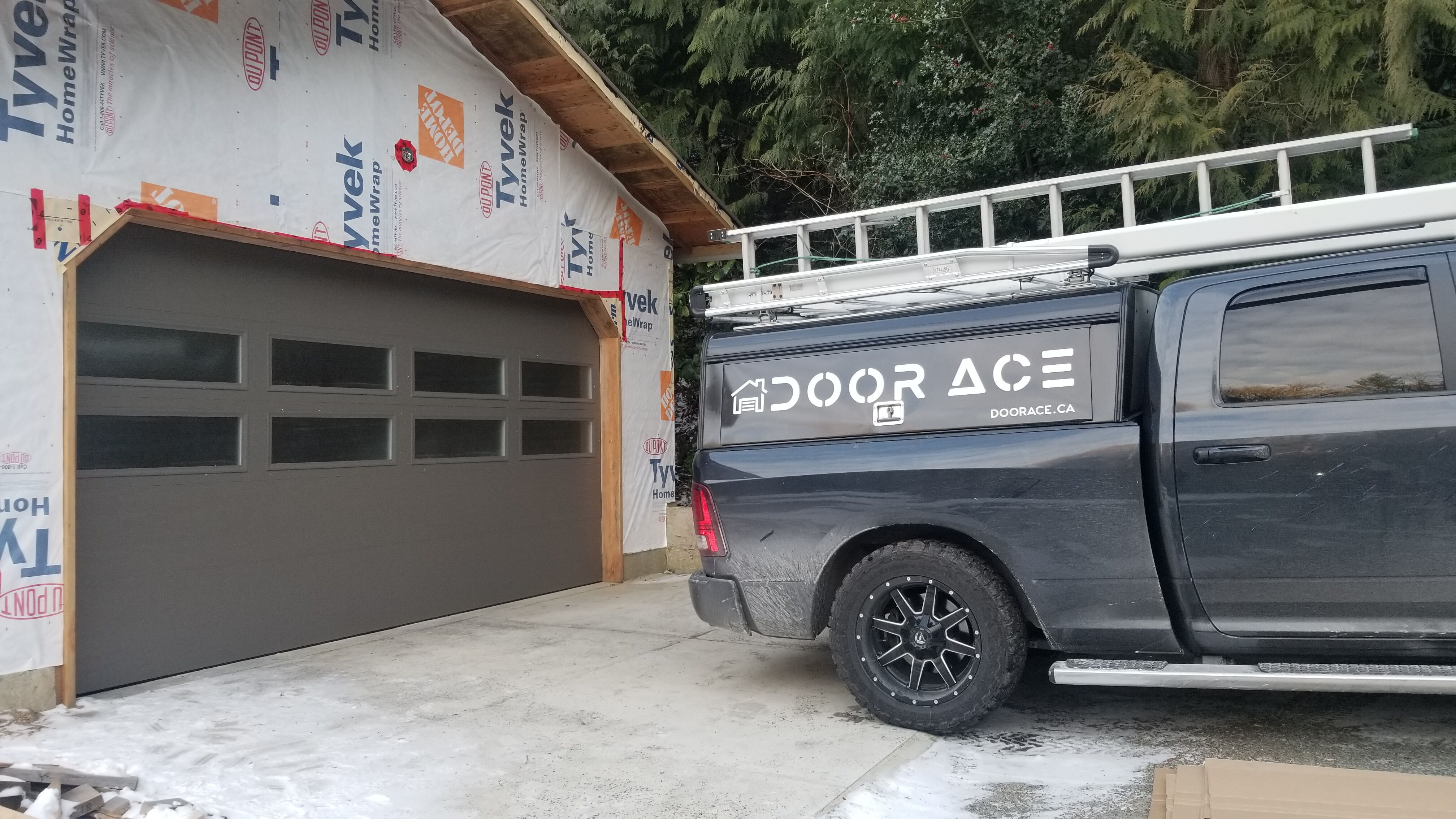 Maintenance, Repair, + Replacements For Your Garage Door
Sometimes your garage door just needs servicing or a brand new part to look and operate at its best. That's why we offer ongoing maintenance, savvy repair, and quick replacements when your garage door needs it. Call Door Ace when you experience an issue with any of the following garage door components:
Hinges
Rollers
Tracks
Struts
Spring System
Lift Cables</li
Weatherstripping
Garage Door Openers + Accessories From DoorAce
These days, garage door openers are a given and many garage door solutions come with enhanced features. Not only do we install any of the accessories your garage door needs, we will fix and replace them to make your garage door as convenient as ever–whether it's stripped gear, secret board, or safety sensor. Door Ace offers a wide array of Liftmaster and Linear openers such as:
Chain drive
Belt drive
AC motor
DC motor with battery back-up
Jackshaft or direct drive
Commercial-grade openers.
All of our premium garage door openers come with WI-FI capabilities that let you to control your garage door from wherever you are–at home, out of town, or even abroad!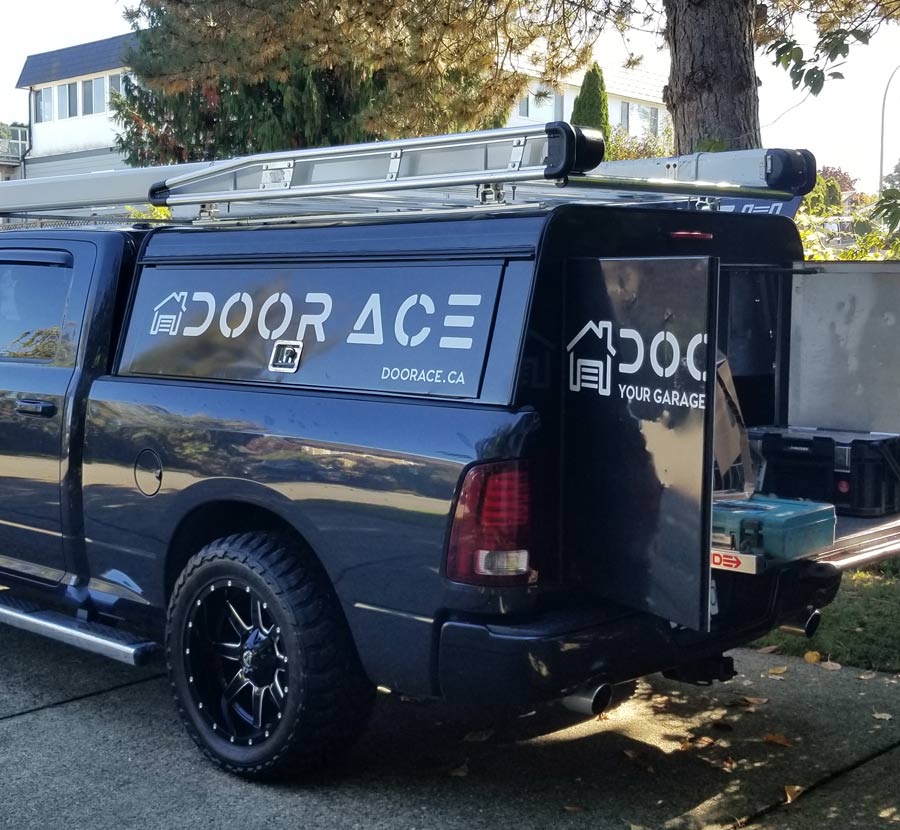 Have A Question About Your Garage Door? | Frequently Asked Questions
Fixing, replacing, or building a garage door is a major expense for any homeowner or business, so questions are absolutely normal. At Door Ace, we aim for 100% satisfaction for each and every one of our customers. Here are some of the most common questions we receive when it comes to garage door repair, maintenance, and installation!
» What is headroom?
Also referred to as clearance, headroom is simply the measurement between the top of your garage door and the lowest point of the ceiling or any obstruction such as a garage door opener rail, pipes, or ductwork that need to be factored in when installing a new door and all of its components.
» How much headroom do I need for my garage door?
Headroom and clearance also depends upon the type of spring system your new garage door uses. For extension springs, a minimum of 10″ is required for your garage door to have enough room to operate correctly. Torsion springs require a little bit more space, typically 12″.
» What should I do if my garage opening does not provide enough headroom or clearance?
If you have your heart set on a new garage door that doesn't allow for enough clearance, keep in mind that low headroom kits are available for certain models, sometimes reducing the required headroom up to 4.5 inches. Just ask your garage door specialist and technician about your options!
» For new construction, what size should my garage opening be, roughly?
Depending on the type of garage door, your opening should be the same size as the door you wish to purchase and install. Always keep in mind that the door fits against the opening from the inside.
» If my garage door slightly hangs in the opening, is this normal?
It's quite typical for a garage door to hang about 4 to 6 inches into the opening. This ensures consistent tension on the cable, preventing separation or migration from the drum or pulley. If your garage door operates with an electric opener, this additional distance can be adjusted, so the door is pulled completely flush with the opening, which would provide extra clearance.
» How much does a new garage door cost?
There are so many factors that contribute to the overall cost of a new garage door installation, including: model, size, material, decorative options, and site conditions. That's why Door Ace offers free consultations that breakdown the expenses for an accurate estimate. Keep in mind that garage door replacements can even be covered by homeowner's insurance!
» Can I fix my garage door myself?
If you have experience installing and repairing garage doors as part of your work as a contractor, you'll be able to service your own door. However, if you're a builder but not super familiar with garage door set-up or components, you should always opt for a garage door specialist in your area to prevent any potential damages or accidents that will compromise your system.
» Can I integrate my old garage opener with my new garage door?
Whether your new door services a residential or commercial property, just about any garage opener can be installed with a new door.
» How long does it take to replace the springs on my garage door?
Depending on the amount of wear, tear, and tension your garage door springs are experiencing, a spring replacement can take anywhere from 1 to 2 hours.
» Is garage door service and repair covered by my homeowner's insurance?
More often than not, in the event of theft, damage, fire, or vandalism, homeowner's insurance will cover your garage door maintenance, repair, and/or replacement–depending on your policy. However, intentional damage to your garage door, which can include certain natural disasters and automobile accidents, will not be covered by your homeowner's insurance. Always ask your policyholder about your options!
» Why does the cable on my garage door keep coming off?
A spring with too much or too little tension can cause issues with other components and the overall operation of your garage door. Springs with excess tension will pull cables off the drum, while springs with not enough tension will cause cables to unwind.
» How long do garage door springs typically last?
On average, residential garage doors typically open and close 4 times a day, and according to a 10,000-cycle torsion spring, this means your garage door springs should last at least 7 years.
» How often should my garage door be serviced?
At Door Ace, we recommend having a residential garage door serviced at least once a year–even if it's not experiencing any obvious mechanical difficulties. For commercial garage doors, we advise more frequent servicing because springs and motors pose higher risk to vehicles and personnel if not kept in perfect working condition.
» Can I use the old tracks on my garage door?
Although some garage doors can be retro-fitted to existing tracks, the vast majority require new ones. More often than not, when you choose to reuse old garage door tracks, your garage door will likely lack proper spacing.
» How thick should my garage door be?
Typically, your garage door's insulation is crafted from Styrofoam or polyurethane. Garage doors with Styrofoam insulation come in thicknesses of 1⅜", 1¾", or 2" (35 to 51 mm). Polyurethane-insulated garage doors have a thickness between 1⅜" and 2" (35 and 51 mm). Most of these garage doors are 1⅝" or 1¾" (41 or 45 mm) thick. Our Door Ace technicians will provide the garage door with the ideal thickness for your home or building based on an inspection and assessment of your structure.
» How long does a garage door replacement take?
Surprisingly, new builds and replacements are fairly quick installs. Depending on the size of the chosen garage door, a replacement can be completed in less than 3 hours. Keep in mind that more customized solutions will typically take a little longer to install.
Do you have any additional questions about our Vancouver garage door services? Contact Door Ace today with any inquiries or to schedule your free consultation! Call us at 604.343.2771.
Garage Door Service & Repair FAQ
When it comes to services and repairs for your residential or commercial garage door, you're bound to have some queries about the issue(s) at hand, the process, and the solutions. At Door Ace, we're more than happy to answer any questions concerning your garage door–we even got a head start by creating this FAQ just for you!